Resource Augmentation vs. Consulting
When deciding which method is ideal for achieving their growth goals and objectives, many firms weigh the pros and downsides of Consultancy vs. Resource Augmentation. However, the strategy that is best for your business will depend on several various aspects, such as the talent that your team already possesses, your financial position, and the demands of your project, to mention a few.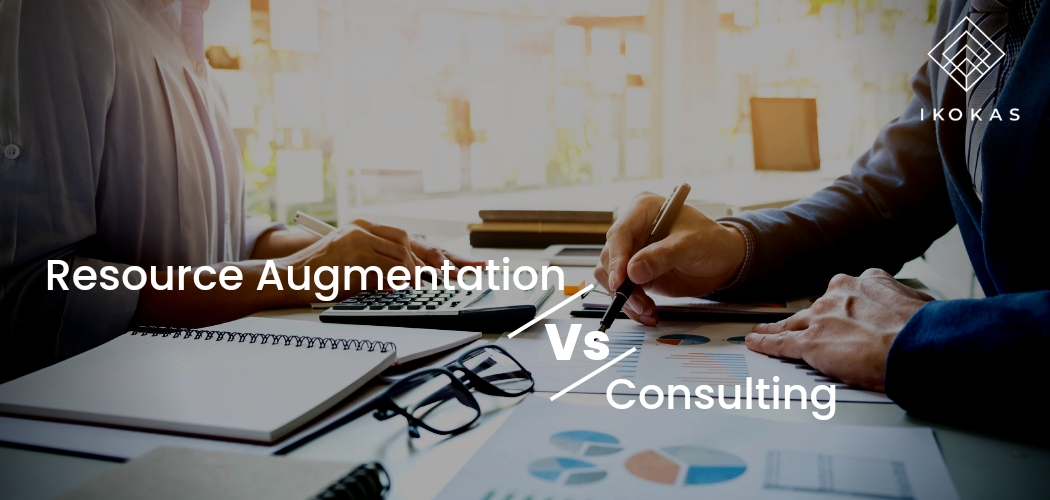 You must comprehend the distinctions between Resource Augmentation and project-based Consulting to decide which strategy is best for your business. Each strategy works better in particular circumstances. Understanding these circumstances can help your company make the best choices and ultimately accomplish its goals.
Understanding Consulting vs. Resource Augmentation
Project-based Consulting Services and Resource Augmentation are not very similar. However, they are both deployed to carry out comparable tasks. It can be challenging to decide which choice is ideal for your company, so let's learn more about each one individually.
Defining Resource Augmentation
Employing a person or people to temporarily bolster an internal team is known as Resource Augmentation. To fill these positions, corporations typically deal with staffing firms. Resource Augmentation or Staff Augmentation is typically utilised for projects with precise standards and requirements. In terms of scope, augmented employees often won't offer anything new to a development project, but they will provide more labour or abilities to complete a task.
With a clearly defined function, augmented employees can be swiftly brought up to speed and incorporated into the internal team. Without a distinct function, goal, or direction for the project, using resource augmentation services wouldn't be prudent. To quickly cover gaps and finish predetermined tasks, Resource Augmentation is used.
The Benefits of Resource Augmentation
● The fundamental advantage of Resource Augmentation is that it enables companies to rapidly scale internal teams with new and improved technical skill sets. Resource Augmentation also involves less risk than hiring new full-time workers.
● There is no need to invest time or money in training enhanced staff. Resource Augmentation allows you to hire individuals who already have the specialised talents you need.
● The addition of staff won't significantly alter your workflows. Instead, your internal teams and current workflows are linked with the help of augmented team.
The Drawbacks of Resource Augmentation
● The main drawback of Resource Augmentation is that putting up a balanced team can be challenging. On the one side, full-time employees may dislike augmented employees, and on the other, augmented employees may struggle to integrate with your internal team.
● Personnel management becomes a major concern. Nevertheless, you can minimize the majority of these risks if you take the time to select people that are a good fit with your current corporate culture.
● The enormous variations in cost and quality are another drawback frequently mentioned when discussing Resource Augmentation. Therefore, it's crucial to work with a staffing partner who takes the time to comprehend your company's objectives and the needs of your projects.
Project-Based Consulting: What Is It?
An array of different consulting services are offered through project-based consulting, ranging from project management to design. Whatever you need to finish your project or get it moving in the correct direction might be included in consulting services. A project's scope and vision are frequently established with the help of project-based consulting services. In comparison to Resource Augmentation, consulting firms will have a smaller direct hands-on role in a project's supervision and input.
A consulting firm often offers clients pre-determined service bundles. Your company needs to be aware of how much flexibility consulting firms offer in their services and how busy their workload is before hiring them. Depending on their availability, a consulting firm typically serves numerous clients at once, which may cause delays in completing your project.
Project-Based Consulting's Benefits
● The main benefit of using consulting services is the broad selection of specialised and generalist talents provided by a single source. Skilled consultants can help you with all aspects of your project, from ideation and early planning to development and deployment.
● Additionally, consulting services are popular since they relieve internal teams of burdens and enable them to concentrate on their primary tasks.
● Let's say you require great ideation and project management abilities. In that situation, a consulting firm provides knowledgeable personnel who can oversee your projects from beginning to end and assist your company in coming up with innovative ideas.
The Problems with Project-Based Consulting
There are several drawbacks to consulting services that must be taken into consideration.
● The fact that consulting services handle several clients at once is their biggest drawback. A consulting firm shouldn't overbook itself to the extent that it can't deliver high-quality work on schedule.
● When you work with consulting organisations, though, you can't count on a dedicated staff because they may work on multiple projects at a time. You might discover that you require uninterrupted and more attention and commitment from your consultants in comparison to what you are receiving.
● Additionally, due to the wide range of skills and expertise available, consulting services are typically more expensive than Resource Augmentation services.
● Moreover, your company may learn that the typical consulting firms' one-size-fits-all strategy is not appropriate for your business or its project.
How to Decide Between Project-Based Consulting and Resource Augmentation
While consulting services are best suited for projects that require assistance with project management and planning and call for a broad spectrum of experience, Resource Augmentation is best suited for clearly defined initiatives that call for temporary team members. You should also think about what your company may reasonably afford given its budget. There is no reason, though, why your business couldn't combine Resource Augmentation and Consultancy Services.
Utilizing both strategies to achieve your company's aims and objectives may make sense in some circumstances. Think about which choice best complements the culture of your business. Taking away from your culture and alienating full-time staff is the last thing you want to do.
Final Reflections
Both Project-based Consultancy and Resource Augmentation have several benefits for firms. It can be challenging to choose the best strategy, but if you deal with a reputed Staffing services provider, they can assist you in the right way.
Delhi-NCR based Ikokas Digital Technologies has a highly experienced team of designers, developers, business analysts, quality assurance engineers, cloud and data warehousing experts. We help corporations of all size and scale across industries, to meet their on-demand IT and Digital Staffing needs, based on their growth plans and project requirements. We deliver flexible and cost-effective hiring services.
Contact us here for a discussion.